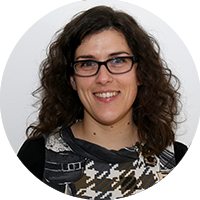 AIDA URREA MONCLÚS
Member of the Chair
Aida Urrea-Monclús is Acting Associate Professor of the Department of Pedagogy at the University of Lleida (UdL). As a researcher, she is part of the Research Group on Socio-Educational Interventions in Children and Youth (GRISIJ) and collaborates with the Research Group on Children and Adolescents at Social Risk (IARS). Both are research groups consolidated by the government of Catalunya.
Since 2011, also, participates in research projects funded by UNICEF Comité Español. He has a PhD in Pedagogy from the University of Lleida, a Master in Educational Research, a Psychopedagogy graduate and a Degree in Social Education and a Teaching in Infant Education.
Their area of ​​specialization is the rights of children and the perspective of the rights approach applied to education, be it formal or non-formal. As a result of his research, he has published several training proposals for the promotion of children's rights among their protagonists, which encouraged participation and empowerment.