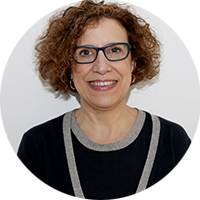 Mª ÀNGELS BALSELLS BAILÓN
Director of the Chair
M. Àngels Balsells is a Full Professor of Education in the Department of Education, Psychology and Social Work at the University of Lleida. She is director of the Chair Education and Adolescentand she is the lead researcher for the University of Lleida in theResearch Group on Socio-Educational Interventions in Childhood and Youth (GRISIJ)—a project by the AGAUR, with joint participation by the University of Barcelona and the University of Lleida—
Her research activity is focused on adolescence, childhood and the family in situations of social risk and vulnerability. She has extensive research experience in identifying educational and social needs through processes of research and participatory action and in designing methodological proposals for socio-educational action, both in educational social services and in child protection.
She has made particularly relevant contributions to knowledge and innovation in socio-educational practices of working on parenting skills and involving adolescents in the system of protection for children and youth.
In this area, she leads the research project coordinated by the National Plan I+D+i of the Ministry of Science, Innovation and Universities "A socio-educative intervenction framework for family reunification in child welfare system from the positive parenting approach (FRAME+P)", with researchers from the University of Lleida, the University of Barcelona, Rovira i Virgili University in Tarragona, the University of Padua, Alexandru Ioan Cuza University in Iasi, University of Minho and University of Brigthon.
She also leads Erasmus+ Project Grow In Family Today – Grandir en Famille Aujourd'hui AGREMENT ERASMUS + N°2018-1-FR01-KA202-048115
She has made several visits and spent time abroad at the University of Quebec at Montreal (UQAM), the University of Sussex, the University of Toronto, the University of Minho, the University of Padua, Université du Québec à Trois-Rivières (UQTR) , Université de Sherbrooke and the Research Centre of Jeunes en difficulté du Centre intégré universitaire de santé et de services sociaux in Montreal
She has led the research partnership with the UNICEF Spanish Committee of Children's Rights and Education (link to project) since 2010 and coordinated the Observatory on Children and Adolescents (link to project) of the city of Lleida since 2008.
She is member of the Expert Group on Positive Parenting of the Spanish Ministry of Health, Social Services and Equity and the Spanish Federation of Municipalities and Provinces.